THRYV INC. v. CLICK-TO-CALL TECH
315条(b)項で規定する請求期限(訴訟提起後1年以内)を徒過しIPRが請求されPTABが手続きを開始した場合に、当該請求期限に対するPTABの判断を控訴することはできない。
PTAB's (IPR's) Time Bar Decision under 35 USC 315(b) is NOT Appealable
2020年 04月 20日
Summarized by Tatsuo YABE – 2020-04-27
|
■ 特許権者:Click-to-Call Tech
■ 被疑侵害者(IPR請求人):THRYV
■ 問題となった特許:USP 5,818,836
■ 争点:IPR請求期限(315条(b)項)に対するPTABの判断は314条(b)項に鑑み控訴可能("appealable")か?
|
侵害訴訟が地裁で提起された場合、被疑侵害者の多数はUSPTOのPTAB(審判部)においてIPRという手続きを利用し問題となるクレームの有効性を争っている。 被疑侵害者にとってIPR手続きのメリットは訴訟で特許を無効にする場合と比べると挙証責任が低く(明白且つ説得性のある証拠ではなく、証拠の優越性)、時間短縮と低コストという観点がある。
|
米国特許法第314条(a)項では「主張されるクレームの少なくとも一つが無効になるという合理的可能性がある」という要件('Threshold')を満たさない場合にはPTABはIPR手続きを開始しないと規定している。 さらに、米国特許法第314条(d)項では「本条項("under this section")はPTABがIPR手続きを開始する、しないという判断は確定判決であり当該判断に対し控訴することはできない」と規定している。
|
§ 314 (a) The Director may not authorize an inter partes review to be instituted unless the Director determines that the information presented in the petition filed under section 311 and any response filed under section 313 shows that there is a reasonable likelihood that the petitioner would prevail with respect to at least 1 of the claims challenged in the petition.
|
§ 314 (d) No Appeal. The determination by the Director whether to institute an inter partes review under this section shall be final and nonappealable.
|
尚、米国特許法第315条(b)項ではIPRの請求可能な期間が規定されており、訴訟提起から1年以内にIPR手続きを請求しなければならない。即ち、AIA改正法(2011年成立)の立法趣旨として、妥当な期日までに訴訟で問題となるクレームの有効性をPTABで判断することが訴訟経済の観点でメリットがあるということだ。
|
§ 315 (b) Patent Owner's Action.—
An inter partes review may not be instituted if the petition requesting the proceeding is filed more than 1 year after the date on which the petitioner, real party in interest, or privy of the petitioner is served with a complaint alleging infringement of the patent. The time limitation set forth in the preceding sentence shall not apply to a request for joinder under subsection (c).
|
■ PTABの判断:
本事件ではPTABでIPR手続きが開始され(314条(a)項の要件が満たされた)問題となる特許クレーム13の新規性・非自明性が否定され無効となった。しかし特許権者はIPR手続きの開始時期が315条(b)項の要件を満たしていないのでIPR手続きをそもそも開始するべきではなかったと主張しCAFCに控訴した。
|
■ CAFC判決(控訴審の判断):
CAFCは315条(b)項の「期間の要件に対するPTABの判断」は314条(d)項で規定する控訴不可の範疇ではないとし、被疑侵害者のIPR請求時期は315条(b)項の要件を満たしていなかったと判断し、PTABの審決を取り消した。
|
被疑侵害者はCAFCの判断を不服とし上告した。即ち、最高裁での争点は、314条(d)項で控訴不可となるのは314条(a)項に対するPTABの判断に限定されるのか、それとも315条(b)項の請求期間の要件に対するPTABの判断にも適用されるのかである。即ち、争点は「314条(d)項が適用される範疇は?」である。
|
■ 最高裁判決:
最高裁判決を一言で云うと、314条(d)項で控訴不可("non-appealable")となるのは314条(a)項に対するPTABの判断に限定されるのではなく、315条(b)項の請求期間の要件に対するPTABの判断にも適用される。即ち、最高裁曰くは「314条(d)項が適用される範疇は314条(a)項に限定されることはなく315条(b)項も含む」ということである。
|
最高裁多数意見(delivered by Ginsburg判事:87歳)の判決理由は以下の通り:

 Source:
ja.wikipedia.org
|
「1」314条(d)項はPTABがIPRをInstitute(開始)するか否かの判断に関して控訴を禁止するという条項であり、IPR請求可能期限を規定した315条(b)項もPTABがIPRを開始(Institute)できるか否かの判断のみに関わる条項なので314条(d)項の範疇に入る。
「2」2011年に成立したAIA(米国特許大改正法)でIPRを設立した立法趣旨は増えすぎる悪い特許を効率よく潰し、米国特許の品質を向上し不必要且つ経済面で多大な負荷を要する訴訟を減らすことである;
「3」315条(b)項のPTAB判断を控訴するのは特許性判断(無効理由)に控訴できない特許権者のため(負け犬の遠吠え:筆者)にだけであり、控訴を認めるとPTABでの特許性に関わる実体的な審理を無にすることになる;
「4」連邦議会(立法府)は315条(b)項の請求期間の要件よりも特許性の要件を重要視したことは明らかである;
「5」仮に315条(b)項によって請求期間を過ぎたIPRであっても新たな請求人によって請求されればIPRを開始できる。さらに、両当事者がIPR手続きを途中で放棄した場合でもPTABは最終判断を下すことができる;
「6」314条(d)項が適用される範疇はIPR手続きを開始するか否かに対するPTABの判断を含むもので314条(a)項に限定されない。もしも314条(d)項の適用範疇が314条(a)項のみであれば立法時に「314条(d)項は本条文314条(a)項に対する判断である」ことを条文に明記したはずである。
|
〇 Gorsuch裁判官による反対意見有り(略す)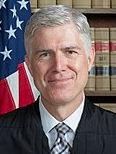 Source:

ja.wikipedia.org

***********************************

|

References:

|

[I] 最高裁判決の要約:

|

Syllabus

|

THRYV, INC., FKA DEX MEDIA, INC. v. CLICK-TOCALL TECHNOLOGIES, LP, ET AL. CERTIORARI TO THE UNITED STATES COURT OF APPEALS FOR THE FEDERAL CIRCUIT No. 18–916.

|

Argued December 9, 2019—Decided April 20, 2020

|

Inter partes review is an administrative process that permits a patent challenger to ask the U. S. Patent and Trademark Office to reconsider the validity of earlier granted patent claims. For inter partes review to proceed, the agency must agree to institute review. See 35 U. S. C. §314. Among other conditions set by statute, if a request comes more than a year after suit against the requesting party for patent infringement, "[a]n inter partes review may not be instituted." §315(b). The agency's "determination . . . whether to institute an inter partes review under this section shall be final and nonappealable." §314(d).

|

Entities associated with petitioner Thryv, Inc. sought inter partes review of a patent owned by respondent Click-to-Call Technologies, LP. Click-to-Call countered that the petition was untimely under §315(b). The Patent Trial and Appeal Board (Board) disagreed and instituted review. After proceedings on the merits, the Board issued a final written decision reiterating its §315(b) decision and canceling 13 of the patent's claims as obvious or lacking novelty. Click-to-Call appealed the Board's §315(b) determination. Treating the Board's application of §315(b) as judicially reviewable, the Court of Appeals concluded that the petition was untimely, vacated the Board's decision, and remanded with instructions to dismiss.

|

Held:

Section 314(d) precludes judicial review of the agency's application of §315(b)'s time prescription. Pp. 6–14.

|

(a) A party generally cannot contend on appeal that the agency should have refused "to institute an inter partes review." §314(d). That follows from §314(d)'s text and Cuozzo Speed Technologies, LLC v. Lee, 579 U. S. ___. In Cuozzo, this Court explained that §314(d) "preclud[es] review of the Patent Office's institution decisions"—at least "where the grounds for attacking the decision to institute inter partes review consist of questions that are closely tied to the application and interpretation of statutes related to the Patent Office's decision to initiate inter partes review." Id., at ___. Pp. 6–7.

|

(b) The question here is whether a challenge based on §315(b) ranks as an appeal of the agency's decision "to institute an inter partes review." §314(d). There is no need to venture beyond Cuozzo's holding that §314(d) bars review at least of matters "closely tied to the application and interpretation of statutes related to" the institution decision, 579 U. S., at ___. A §315(b) challenge easily meets that measurement. Section 315(b), setting forth a circumstance in which "[a]n inter partes review may not be instituted," expressly governs institution and nothing more. Pp. 7–8.

|

(c) This conclusion is strongly reinforced by the statute's purpose and design. Congress designed inter partes review to weed out bad patent claims efficiently. Allowing §315(b) appeals, however, would unwind agency proceedings determining patentability and leave bad patents enforceable. Pp. 8–10.

|

(d) In Click-to-Call's view, §314(d)'s bar on judicial review is limited to the agency's threshold determination under §314(a) of the question whether the petitioner has a reasonable likelihood of prevailing. Cuozzo is fatal to that interpretation, for the Court in that case held unreviewable the agency's application of a provision other than §314(a). Contrary to Click-to-Call's contention, §314(d)'s text does not limit the review bar to §314(a). Rather than borrowing language from related provisions that would have achieved Click-to-Call's preferred meaning, Congress used broader language in §314(d). Click-to-Call also insists that Congress intended judicial supervision of the agency's application of §315(b), but the statute instead reflects a choice to entrust that issue to the agency. Finally, SAS Institute Inc. v. Iancu, 584 U. S. ___, offers Click-to-Call no assistance. Unlike the appeal held reviewable in SAS Institute, Click-to-Call's appeal challenges not the manner in which the agency's review proceeds once instituted, but whether the agency should have instituted review at all. Pp. 10–13.

|

(e) Click-to-Call argues in the alternative that its §315(b) objection is authorized as an appeal from the Board's final written decision, which addressed the §315(b) issue. Even labeled that way, Click-toCall's appeal is still barred by §314(d) because Click-to-Call's contention remains, essentially, that the agency should have refused to institute inter partes review. P. 14.

|

899 F. 3d 1321, vacated and remanded.

|

GINSBURG, J., delivered the opinion of the Court, in which ROBERTS, C. J., and BREYER, KAGAN, and KAVANAUGH, JJ., joined, and in which THOMAS and ALITO, JJ., joined except as to Part III–C. GORSUCH, J., filed a dissenting opinion, in which SOTOMAYOR, J., joined as to Parts I, II, III, and IV.

|

[II] 多数意見の抜粋:

|

We therefore ask whether a challenge based on §315(b) ranks as an appeal of the agency's decision "to institute an inter partes review." §314(d).

|

Section 315(b)'s time limitation is integral to, indeed a condition on, institution. After all, §315(b) sets forth a circumstance in which "[a]n inter partes review may not be instituted."

|

Because §315(b) expressly governs institution and nothing more, a contention that a petition fails under §315(b) is a contention that the agency should have refused "to institute an inter partes review." §314(d).

|

The AIA's purpose and design strongly reinforce our conclusion. By providing for inter partes review, Congress, concerned about overpatenting and its diminishment of competition, sought to weed out bad patent claims efficiently. See id., at ___ (slip op., at 8); H. R. Rep. No. 112– 98, pt. 1, p. 40 (2011) ("The legislation is designed to establish a more efficient and streamlined patent system that will improve patent quality and limit unnecessary and counterproductive litigation costs.").

|

Allowing §315(b) appeals would tug against that objective, wasting the resources spent resolving patentability and leaving bad patents enforceable. A successful §315(b) appeal would terminate in vacatur of the agency's decision; in lieu of enabling judicial review of patentability, vacatur would unwind the agency's merits decision. See Cuozzo, 579 U. S., at ___ (slip op., at 8). And because a patent owner would need to appeal on §315(b) untimeliness grounds only if she could not prevail on patentability, §315(b) appeals would operate to save bad patent claims.

|

It resists only the agency's institution decision, mindful that if the institution decision is reversed, then the agency's work will be undone and the canceled patent claims resurrected.

|

Other features of the statutory design confirm that Congress prioritized patentability over §315(b)'s timeliness requirement. A petitioner's failure to satisfy §315(b) does not prevent the agency from conducting inter partes review of the challenged patent claims; the agency can do so at another petitioner's request. §311(a).

|

And once inter partes review is instituted, the agency may issue a final written decision even "[i]f no petitioner remains in the inter partes review." §317(a).

|

The text of §314(d) offers Click-to-Call no support. The provision sweeps more broadly than the determination about whether "there is a reasonable likelihood that the petitioner would prevail." §314(a). Rather, it encompasses the entire determination "whether to institute an inter partes review." §314(d). And §314(d) refers not to a determination under subsection (a), but to the determination "under this section." That phrase indicates that §314 governs the Director's institution of inter partes review.

|

If Congress had intended Click-to-Call's meaning, it had at hand readymade language from a precursor to §314(d): "A determination by the Director under subsection (a) shall be final and non-appealable." 35 U. S. C. §312(c) (2006 ed.) (emphasis added) (governing inter partes reexamination). Or Congress might have borrowed from a related provision: "A determination by the Director pursuant to subsection (a) of this section that no substantial new question of patentability has been raised will be final and nonappealable."

|

Instead, Congress chose to shield from appellate review the determination "whether to institute an inter partes review under this section." §314(d) (emphasis added).

|

Congress entrusted the institution decision to the agency, however, to avoid the significant costs, already recounted, of nullifying a thoroughgoing determination about a patent's validity.

|

For the reasons stated, we vacate the judgment of the United States Court of Appeals for the Federal Circuit and remand the case with instructions to dismiss for lack of appellate jurisdiction.

|

[III] 関連条文:

|

35 U.S. Code § 314. Institution of inter partes review

(a) Threshold.—

The Director may not authorize an inter partes review to be instituted unless the Director determines that the information presented in the petition filed under section 311 and any response filed under section 313 shows that there is a reasonable likelihood that the petitioner would prevail with respect to at least 1 of the claims challenged in the petition.

(b) Timing.—The Director shall determine whether to institute an inter partes review under this chapter pursuant to a petition filed under section 311 within 3 months after—

(1) receiving a preliminary response to the petition under section 313; or

(2) if no such preliminary response is filed, the last date on which such response may be filed.

(c) Notice.— The Director shall notify the petitioner and patent owner, in writing, of the Director's determination under subsection (a), and shall make such notice available to the public as soon as is practicable. Such notice shall include the date on which the review shall commence.

(d) No Appeal.— The determination by the Director whether to institute an inter partes review under this section shall be final and non-appealable.

|

35 U.S. Code § 315. Relation to other proceedings or actions

(b) Patent Owner's Action.—

An inter partes review may not be instituted if the petition requesting the proceeding is filed more than 1 year after the date on which the petitioner, real party in interest, or privy of the petitioner is served with a complaint alleging infringement of the patent. The time limitation set forth in the preceding sentence shall not apply to a request for joinder under subsection (c).

|