■ 2010年1月28日、米国特許庁はPTAを再計算することを表明
CAFC判決(Wyeth v. Kappos:2010年1月7日)の敗訴により
2010年3月2日までに登録(特許証発行)されたもので、登録後180日以内にPTA再計算をUSPTOに申請した場合にUSPTOは
無料で特許有効期限(PTA)の再計算をすることを公表した。
Tatsuo YABE
March 31, 2010
|
Subject: 米国特許のPTA(有効期限の延長)の算出方法
|
先般1月7日にCAFCの判決(Wyeth v. Kappos: USPTO director)でUSPTOのPTA(特許有効期限の延長)の計算式に間違いがあることが確認された。
|
争点をシンプルにするために、出願人側における遅れ(例:拒絶通知に対する応答が期限内)が一切ないものと想定し、説明します。
|
米国特許の有効期限は出願日から20年に切り替わり(1995年6月8日)、1999年11月28日に米国発明者保護法(American Inventor's Protection Act:改正法案)が可決され、特許庁側の理由に起因する特許証発行の遅れに関してはその遅れた日数分を有効期限に付加しようという法律で、154条に規定されている。 同条文の概要は以下の通り:
|
154条(b)(1)(A) ⇒ A-Delayと称する。
所謂、14-4-4ルールと呼ばれたもので、出願後14ヶ月以内に第1回目の実体拒絶を出せない場合には、その遅れ日数を加算、出願人の応答に対して4ヶ月以内にアクションを出せない場合にはその遅れ日数を加算する; 登録料納付後4ヶ月以内に特許証を発行できない場合にはその遅れ日数を加算するなど。
|
154条(b)(1)(B) ⇒ B-Delayと称する。
出願後3年以内に特許証が発行されない場合にはその遅れ日数を加算する。
|
■ 正しいPTAの計算の仕方:
|
A-Delayの総和とB-Delayをプラスし、B-Delayと A-Delayの重なり部分をマイナスする。
(勿論、出願人側の遅れがあればそれをさらにマイナスする)
|
***********************************************************
例1) 
|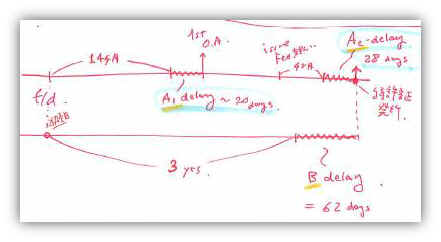 ----------------------------------------------------
|
A=A1+A2=20+28=48日
B=62日
|
PTA=(A+B)−A2=(48+62)−28=82日
|
***********************************************************
例2)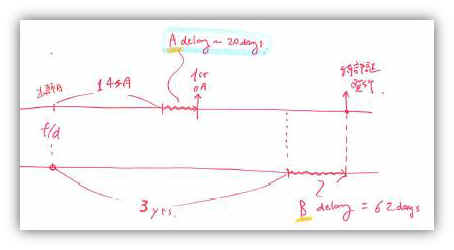 |-----------------------------------------------------------
A =20日
B=62日
|
PTA=(A+B)−0=20+62=82日
***********************************************************|
■ 米国特許庁の今までの計算:
A-DelayとB-Delayのどちらか大きいほうをPTAとしていた。
|
拠って、
例1)の場合にはB>A1+A2、故に62日、
例2の場合には、B>A,故に62日と計算していた。
|
*******************************************
|
上記のようにUSPTOの計算式は間違っていたので、USPTOは3月2日には完全にプログラムを修正することを確約し、以下の特許に対してのみ、無料でPTAの再計算をし、妥当な場合にはPTAを加算することをアナウンスした。
|
■ PTA再計算・加算の対象となる米国特許:
|
2010年3月2日までに登録(特許証発行)されたもので、登録後180日以内にPTA再計算をUSPTOに申請した場合
|
*******************************************************************************************************************
see: http://www.uspto.gov/news/pr/2010/10_06.jsp
Press Release, 10-06
USPTO Announces Interim Procedure for Patentees to Request Patent Term Adjustment Recalculation
Procedure to Comply with the Federal Circuit Decision in Wyeth v. Kappos Regarding the Overlapping Delay Provision of 35 U.S.C.154(b)(2)(A)
WASHINGTON – The Commerce Department's United States Patent and Trademark Office (USPTO) is providing patentees with the ability to request a recalculation of their patent term adjustment without a fee or petition as is normally required pending completion of necessary modifications to the USPTO's computer program for calculating patent term adjustments. The agency expects to complete by March 2, 2010, the software modification necessary to comply with the U.S. Court of Appeals for the Federal Circuit's recent decision in Wyeth v. Kappos regarding the overlapping delay provision of 35 USC 154(b)(2)(A). In the meantime, the USPTO will be processing recalculation requests under an interim procedure that is available to a patentee whose patent issues prior to March 2, 2010, and who requests it no later than 180 days after the issue date. This procedure is available only for alleged errors in calculation that are specifically identified in Wyeth. A copy of the notice submitted to the Federal Register for publication and the form for patentees to use in requesting a recalculation of patent term is on the USPTO Web site at http://www.uspto.gov/patents/announce/pta_wyeth.pdf.
"The USPTO is working to modify its computer program to comply with the Federal Circuit's decision as soon as possible," said Commissioner for Patents Robert Stoll. "Until then, this interim procedure will enable patentees to request a recalculation quickly and at no charge."
An applicant is entitled, subject to certain conditions and limitations, to patent term adjustment if (1) the USPTO fails to take certain actions during the examination and issue process within specified time frames; (2) if the USPTO fails to issue a patent within three years of the actual filing date of the application; and (3) for delays due to interference, secrecy order, or successful appellate review.
**********************************************************************************************************
以上
矢部達雄